Thank you for making a donation to The Oilfield Christian Fellowship.
INSTRUCTIONS: Fill out this form and hit the submit button. This will take you to a pay page.
If you would rather pay or donate via check, they can be made out to "The OCF of Houston" and mailed to:
The OCF of Houston
P.O. Box 5075
Kingwood, TX 77325
| Book | Per Book | Case of Books (24) |
| --- | --- | --- |
| English Bible | $5.00 | $100.00 |
| Spanish Bible | $7.50 | $135.00 |
| Chinese Bible | $3.00 | $35.00 |
| Portuguese Bible | $2.00 | $35.00 |
| Making the Trip With God | $2.00 | N/A |
Bibles are also available in case lots of 24.
The Oilfield Christian Fellowship of Houston is 503 (c) (3) Non Profit.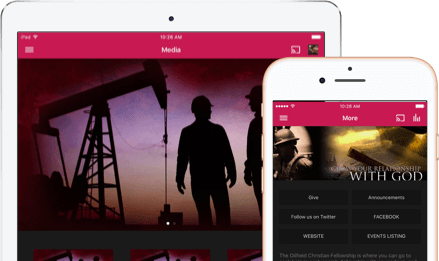 The OCF Bible App contains testimonies in English, Spanish, Portuguese and Mandarin Chinese in audio and print that are part of the Oil Patch Bible. The App also contains links to OCF social media and website. The App also houses an audio Bible that has over 1200 languages available to read or listen.
Did you know the Oilfield Christian Fellowship has a free Bible APP? It has an audio and readable Bible in over 1300 languages, the Oil Patch Bible testimonies in audio and readable formats. It also has a great devotional series…
21. TODD STEVENS, JAN. 2023 TALKS ABOUT LIFE IN THE OIL PATCH LIVED AROUND THE WORLD. https://youtu.be/KTP2rz7ObV0 20. JIM TEAGUE, NOV 2022, TALKS ABOUT HIS LIFE, CONVERSION AND THE CO-FOUNDING OF THE OILFIELD CHRISTIAN FELLOWSHIP. https://youtu.be/jLRZ7DyBV5o 19. DAWID PIETERSE TALKS…
All Announcements
Articles | Bible Resources
Mike Chaffin and you will know the truth, and the truth shall set you free." John 8:32 When being sworn in to testify at a trial you are asked, "Do you swear to tell the truth, the whole truth, and…
By Mike Chaffin For unto us a Child is born, Unto us a Son is given; And the government will be upon His shoulder. And His name will be called Wonderful, Counselor, Mighty God, Everlasting Father, Prince of Peace.…
Photo by Sean Foster "If you love me keep my commands." John 14:15         Someone coined the phrase "Third times a charm."  Another quote comes to mind, "It's déjà vu all over again!"         Jesus has a message for us,…
By Mike Chaffin "Hear, O Israel: The Lord our God, the Lord is one! Deuteronomy 6:4 How many times have you asked someone, "Did you hear what I said?"  It's easy to get upset when we talk to a loved…
THE 52nd MOST REFERENCED VERSE THE 51st MOST REFERENCED VERSE THE 50th MOST REFERENCED VERSE THE 49th MOST REFERENCED VERSE THE 48TH MOST REFERENCED VERSE
See All Resources
Orders for the Oil Patch Bible continue to flow out to sites around the county and around the world.  Particularly Bibles going into Mexico and Venezuela currently.  The Oil Patch Bibles are available in English, Spanish, Chinese and Portuguese.  So,…
We are looking for testimonies to put on the OCF Bible APP, to post here on the website, or use in a future printing of the Bible.  If you want to share your testimony of how God rescued you from…
Want to know what the Christian journey is all about?  How to travel your new road with Jesus?  While this book is perfect for the new Christian or those curious about Christianity, it is also very well received by the…
Feb
16
Thu
OCF Permian Basin Luncheon

@ Rock The Desert Field house
Feb 16 @ 11:30 am – 12:30 pm
Meetings:
WHAT: Oilfield Christian Fellowship
WHEN:  3rd Thursday, every month 11:30 am – 12:30 pm
WHERE: the Rock the Desert field house on FM 1788 north of the airport
SPEAKER:
Rock the Desert Field House
2000 FM 1788, Midland, TX 79706
OCF The Woodlands Luncheon

@ The Church Project
Feb 16 @ 11:30 am – 1:00 pm
Make your plans to attend The Woodlands OCF luncheon on the third Thursday of every month except July and December.  The meetings take place at the Church Project  at 602 Pruitt Road, The Woodlands, TX 77380
Time:  11:30 at the venue.
September Speaker – TBD
TO RSVP AND PAY TO ATTEND THE LIVE EVENT CLICK TICKETS
No meetings in June or July
We will welcome you to walk up  if you decide to attend at the last minute.  However, without an RSVP there may not be a box lunch available.