The live event is at Houston's First Baptist Church.

Start time:  11:30 on the first Wednesday of each month except May, July, August and December.

RSVP: RSVPs are highly recommended RSVP HERE
If you find you can't RSVP, or want to attend at the last minute, we will accept walk-ins. A lunch may not be available for those who do not RSVP.  Walk-in price is $25.00. There is no charge for the meeting if you aren't eating.
For questions about the luncheon, call or email John Bird by email or by phone at 281-359-1258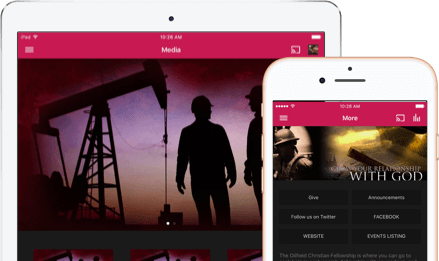 The OCF Bible App contains testimonies in English, Spanish, Portuguese and Mandarin Chinese in audio and print that are part of the Oil Patch Bible. The App also contains links to OCF social media and website. The App also houses an audio Bible that has over 1200 languages available to read or listen.
The NAPE Summit will be held at the George R. Brown Convention Center in downtown Houston, TX on February 7-9, 2024.  Make your plans now to attend.  CLICK HERE TO REGISTER Why Attend This event offers international and domestic purchasers…
David Short, Professional Mechanical Engineer.  Strengths include; Subsea: Drilling, Completions, Intervention | Managed Pressure Drilling (MPD) | BOP compliance CFR250 API| BOP/PCE SME | Shear & Accumulator Calculations | Real Time Monitoring | Artificial Intelligence (AI) | Root Cause Analysis…
All Announcements
Articles | Bible Resources
Photo by Small Group Network By Mike Chaffin Go therefore and make disciples of all nations, baptizing them in the name of the Father and of the Son and of the Holy Spirit, Matthew 28:19           If my boss tells…
Photo by Jack B By Mike Chaffin  for all have sinned and fall short of the glory of God, Romans 3:23           Can you think of a time when someone fell short of your expectations? Maybe you hired a contractor…
Photo by Jon Tyson By Mike Chaffin  For by grace you have been saved through faith, and that not of yourselves; it is the gift of God, Ephesians 2:8           This is the way it has always been. Ever since…
Photo by Hanson Lu By Mike Chaffin In the beginning God created the heavens and the earth. Genesis 1:1            Everything has a beginning. Science even agrees that the universe had a beginning. Science's Big Bang Theory even fits the…
THE 52nd MOST REFERENCED VERSE THE 51st MOST REFERENCED VERSE THE 50th MOST REFERENCED VERSE THE 49th MOST REFERENCED VERSE THE 48th MOST REFERENCED VERSE THE 47th MOST REFERENCED VERSE THE 46th MOST REFERENCED VERSE THE 45th MOST REFERENCED VERSE…
See All Resources
Orders for the Oil Patch Bible continue to flow out to sites around the county and around the world.  Particularly Bibles going into Mexico and Venezuela currently.  The Oil Patch Bibles are available in English, Spanish, Chinese and Portuguese.  So,…
We are looking for testimonies to put on the OCF Bible APP, to post here on the website, or use in a future printing of the Bible.  If you want to share your testimony of how God rescued you from…
Want to know what the Christian journey is all about?  How to travel your new road with Jesus?  While this book is perfect for the new Christian or those curious about Christianity, it is also very well received by the…