Welcome to the Calgary OCF Chapter page. Contact OCF Calgary via email.
The Calgary Chapter is up and running. If you want to be a part of the group please email ocfcalgary@gmail.com.
Spring Fellowship Breakfast
Location
Calgary Petroleum Club
319 5 Avenue Southwest
Calgary, AB T2P 0L6
Canada
​"As Iron Sharpens iron, so one man sharpens another."  – Proverbs 27:17
June 9, 2022
6:30am – Doors Open
7:00am – Breakfast and Speakers
Keynote Address – LAUGH AGAIN – Finding Joy and Success in Tough Times.
Special Guest Speaker: Phil Callaway, Christian Humorist, Speaker, Author, Radio Host. Dad.
​For upcoming events, please check our website:
https://oilfieldchristianfellowshipcalgary.com
Join us on LinkedIn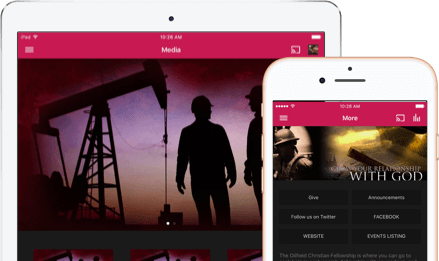 The OCF Bible App contains testimonies in English, Spanish, Portuguese and Mandarin Chinese in audio and print that are part of the Oil Patch Bible. The App also contains links to OCF social media and website. The App also houses an audio Bible that has over 1200 languages available to read or listen.
Starting on August 17th, 2022 the Ft. Worth Chapter will begin meeting on the third Wednesday of each month.  The venue is the Ft. Worth Petroleum Club.  Please mark your calendar for the new meeting dates, always the third Wednesday…
The Spanish edition of Making The Trip With God on Route 316 is now available. "HACIENDO EL VIAJE CON DIOS EN LA RUTA 316" Get yours today by using the General Ministry Donation Order Form
All Announcements
Articles | Bible Resources
By Mike Chaffin I warn everyone who hears the words of the prophecy of this scroll: If anyone adds anything to them, God will add to that person the plagues described in this scroll. And if anyone takes words away…
By Mike Chaffin 24 Now to Him who is able to keep you from stumbling, and to present you faultless before the presence of His glory with exceeding joy, 25 To God our Savior, Who alone is wise, be glory and majesty,…
By Mike Chaffin 11 Dear friend, do not imitate what is evil but what is good. Anyone who does what is good is from God. Anyone who does what is evil has not seen God. 12 Demetrius is well spoken of by…
The Spanish language devotional, "HACIENDO EL VIAJE CON DIOS EN LA RUTA 316"  is now available.  You an order yours today by clicking on the store tab and ordering your devotional there or going directly to the General Ministry Donation…
Everyone seems to want to get in the last word.  But, ultimately who gets the last word in each of our lives.  I know it is God.  God gets the last word and we can see that in His Word,…
See All Resources
Orders for the Oil Patch Bible continue to flow out to sites around the county and around the world.  Particularly Bibles going into Mexico and Venezuela currently.  The Oil Patch Bibles are available in English, Spanish, Chinese and Portuguese.  So,…
We are looking for testimonies to put on the OCF Bible APP, to post here on the website, or use in a future printing of the Bible.  If you want to share your testimony of how God rescued you from…
Want to know what the Christian journey is all about?  How to travel your new road with Jesus?  While this book is perfect for the new Christian or those curious about Christianity, it is also very well received by the…