Thanks for reaching out to us for more information on a relationship with Christ, and participation in the OCF-OKC Chapter.
Jeff Hubbard, 405-550-4888, jhubbard.sales@gmail.com OCF-OKC Chapter Leader.
Randy L. Patterson, randyl.patterson@gmail.com, 405-517-0820 (cell/text), Communications
What:       OCF-OKC "First Thursday" Fellowship Lunch
When:      First Thursday of most months, 11:30 AM – 12:45 PM
Where:    City Rescue Mission Chapel / Banquet Hall, 800 W California Ave, OKC, OK 73106
Cost:       N.C. (Donations welcomed for Bibles & TttR; via cash, check, or credit card)
RSVP      No longer required
If you would like to mail a check, make it out to OKC Oilfield Christian Fellowship and mail to:
Basin Engineering attn: Jeff Hubbard 1117 NW 24th Street OKC OK 73106
QUESTIONS PLEASE FEEL FREE TO ASK JEFF HUBBARD 405-550-4888 OR MATT HILL 405-568-2742
USE EVENTBRITE RECEIPT FOR YOUR TAX PURPOSES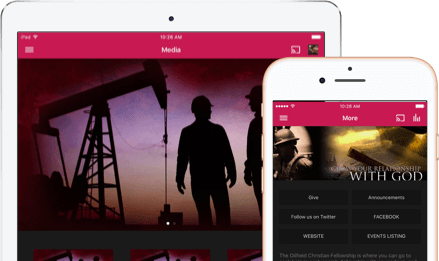 The OCF Bible App contains testimonies in English, Spanish, Portuguese and Mandarin Chinese in audio and print that are part of the Oil Patch Bible. The App also contains links to OCF social media and website. The App also houses an audio Bible that has over 1200 languages available to read or listen.