When: First Thursday of each month, 11:30 AM – 12:45 PM
Where:  CIty Rescue Mission
Cost: N.C. (Donations welcomed for Bibles & TttR; cash, check, or credit card accepted)
RSVP via Eventbrite (www.ocf-okc.eventbrite.com) prior to 6 AM on the Wednesday before Thursday lunch.
For more information contact:
Jeff Hubbard, jhubbardsales@gmail.com OCF-OKC Chapter Leader.
Randy Patterson, 405-517-0820 (cell/text), randyl.patterson@gmail.com, randypatterson@cox.net; OCF-OKC Director of Communications
Who: You (OCF-OKC and friends) /
What: OCF-OKC First Thursday Fellowship
When: First Thursday, 11:30 AM – 1:00 PM;
How: Please RSVP to randyl.patterson@gmail.com  or,  use the EVENTBRITE Link to register.  Select the July date so we can get (1) a head count and (2) a meal count for your group.
If you would like to mail a check, make it out to OKC Oilfield Christian Fellowship and mail to:
Basin Engineering, attn: Jeff Hubbard 1117 NW 24th Street OKC OK 73106
PLEASE FEEL FREE TO CALL JEFF HUBBARD 405-550-4888 OR MATT HILL 405-568-2742 IF YOU HAVE ANY QUESTIONS.
OCF-OKC 2022 Meeting Dates, Events, & Speakers:
Please RSVP at www.ocf-okc.eventbrite.com
ANNOUNCEMENT FROM THE OKC OCF CHAPTER
The City Rescue Mission OKC Children's Christmas Party is being held this year on December 21 from 2:00 to 4:00 PM at the CRM.  Oilfield Christian Fellowship of OKC will help again this year and we need you to forward this email to your clients, customers, and friends so we can make a difference in the lives of these children; who will probably have a Christmas experience much different than your children or your grandchildren.
 Activities will include making ornaments and Christmas decorations, face painting, bounce house, photo booth, a DJ and of course… a visit from Santa!
 The Christmas party makes the holiday a lot more special for the children living at the Mission.
Donations are needed to offset the costs. We would like to have enough funds so that every child that attends (right now 85 boys and girls) can take away a goody bag filled with treats and a toy. If you can make a donation, please send your check to CRM with a note on memo line indicating "OCF-OKC Christmas Party".
Mail to: CRM, 800 W California Ave, OKC, OK 73106.
 For you salesmen out there looking for the perfect gift for your clients…How about a "We skipped the popcorn tins this year and made a donation to City Rescue Mission in your name so the children who are currently living there can have a Christmas with a party and a visit from Santa!" 
 If you would like to volunteer to help at the party go to the City Rescue Mission OKC website (cityrescue.org) and click on the "Volunteer" tab, then follow the instructions and get ready to have some Christmas fun. 
 Hope to see you there. #oilfield #Charity #Christmas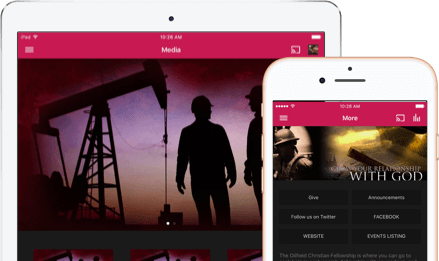 The OCF Bible App contains testimonies in English, Spanish, Portuguese and Mandarin Chinese in audio and print that are part of the Oil Patch Bible. The App also contains links to OCF social media and website. The App also houses an audio Bible that has over 1200 languages available to read or listen.