Please take your time reading the testimonies of men whose lives have been transformed by the grace and love of God.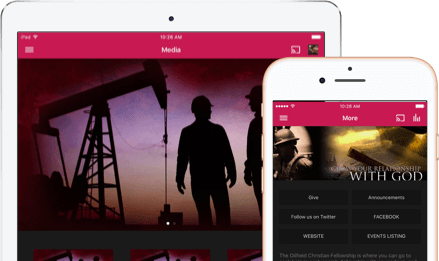 The OCF Bible App contains testimonies in English, Spanish, Portuguese and Mandarin Chinese in audio and print that are part of the Oil Patch Bible. The App also contains links to OCF social media and website. The App also houses an audio Bible that has over 1200 languages available to read or listen.
David Short, Professional Mechanical Engineer.  Strengths include; Subsea: Drilling, Completions, Intervention | Managed Pressure Drilling (MPD) | BOP compliance CFR250 API| BOP/PCE SME | Shear & Accumulator Calculations | Real Time Monitoring | Artificial Intelligence (AI) | Root Cause Analysis…
Did you know the Oilfield Christian Fellowship has a free Bible APP? It has an audio and readable Bible in over 1300 languages, the Oil Patch Bible testimonies in audio and readable formats. It also has a great devotional series…
All Announcements
Articles | Bible Resources
Photo by Bruno van der Kraan By Mike Chaffin The one who is the true light, who gives light to everyone, was coming into the world. John 1:9            One of the best feelings is when we get it. It's…
Photo by Greg Rakozy By Mike Chaffin   Then God said, "Let Us make man in Our image, according to Our likeness; let them have dominion over the fish of the sea, over the birds of the air, and over the…
By Mike Chaffin  And so, dear brothers and sisters, I plead with you to give your bodies to God because of all he has done for you. Let them be a living and holy sacrifice—the kind he will find acceptable.…
THE 52nd MOST REFERENCED VERSE THE 51st MOST REFERENCED VERSE THE 50th MOST REFERENCED VERSE THE 49th MOST REFERENCED VERSE THE 48th MOST REFERENCED VERSE THE 47th MOST REFERENCED VERSE THE 46th MOST REFERENCED VERSE THE 45th MOST REFERENCED VERSE…
Everyone seems to want to get in the last word.  But, ultimately who gets the last word in each of our lives.  I know it is God.  God gets the last word and we can see that in His Word,…
See All Resources
Orders for the Oil Patch Bible continue to flow out to sites around the county and around the world.  Particularly Bibles going into Mexico and Venezuela currently.  The Oil Patch Bibles are available in English, Spanish, Chinese and Portuguese.  So,…
We are looking for testimonies to put on the OCF Bible APP, to post here on the website, or use in a future printing of the Bible.  If you want to share your testimony of how God rescued you from…
Want to know what the Christian journey is all about?  How to travel your new road with Jesus?  While this book is perfect for the new Christian or those curious about Christianity, it is also very well received by the…
Oct
4
Wed
OCF Houston Luncheon

@ Houston First Baptist Church
Oct 4 @ 11:30 am – 1:00 pm
The OCF of Houston luncheon is held at Houston's First Baptist Church on the first Wednesday of each month.
Use the Contact US button on the home page for more information.
RSVP ticket price is $20.00.  Walk-in pricing is $25.00  Event is free if you are not eating.
TO RSVP to attend the meeting click HERE
Oct
5
Thu
OCF Oklahoma City luncheon

@ City Rescue Mission
Oct 5 @ 11:30 am – 1:00 pm
OCF-OKC Lunch Meetings:
Who: You (OCF-OKC and friends)
What: OCF-OKC First Thursday Fellowship
When: First Thursday, 11:30 AM – 1:00 PM
Where: City Rescue Mission Chapel / Banquet Hall, 800 W California Ave, OKC, OK 73106
Cost: N.C. (Donations welcomed for Bibles & TttR; cash, check, or credit card accepted)
RSVP  no longer required.
For more information contact:
Jeff Hubbard, 405-550-4888, jhubbardsales@gmail.com OCF-OKC Chapter Leader.
Randy Patterson, 405-517-0820(cell/text), randyl.patterson@gmail.com, OCF-OKC Director of Communications
If you would like to donate by check, make it out to Oilfield Christian Fellowship of OKC and mail to:
Basin Engineering, attn: Jeff Hubbard 1117 NW 24th Street, OKC, OK 73106
Oct
11
Wed
OCF Tyler Luncheon

@ Holly Tree Country Club, Tyler TX
Oct 11 @ 11:30 am – 1:00 pm
Meetings:
When: 11:30 to 1 PM / 2nd Wednesday of each month
Where: Hollytree CC
6700 Hollytree Dr, Tyler, TX 75703
COST:  Lunch: $20.00 per person
(Cash or Check, no credit cards)
For more information contact: Terry Bates at 903-343-3111 or terry.bates@grenergyservices.com
Duane Samford is the April guest speaker.
The Buffet will be open by 11:15 am so come early if you like
Come join us for Fellowship and Worship!!
OCF San Antonio luncheon

@ Big'z Burger Joint
Oct 11 @ 12:00 pm – 1:00 pm
When:  Always the 2nd Wednesday of the month at 11:30 am

New Location at Big Z Burger Joint
San Antonio Chapter OCF LUNCHEON
OCF Friends,
Please join the San Antonio Oilfield Christian Fellowship for lunch. This will be an informal meeting of fellowship. Any expense for lunch will be at each attendee's discretion and we ask if you plan to attend please RSVP
As iron sharpens iron, so one person sharpens another. – Proverbs 27:17
For Him,
The SA OCF Team
Share this event on Facebook and Twitter
Oilfield Christian fellowship San Antonio Luncheon
Mark Your Calendars and make plans to attend
If you have any specific request and / or questions for the OCF San Antonio chapter don't hesitate to reply to this email or email OCFSanAntonio@gmail.com.
For additional information email: ocfsanantonio@gmail.com or call Joe DeGeare 281-381-7573 or Pete Bommer 210-216-6400 .
PLEASE RSVP via 48 hours prior to the event
Oct
13
Fri
OILFIELD PRAYER BREAKFAST OKC

@ EMBASY SUITES HOTEL NW
Oct 13 @ 6:00 am – 8:15 am
OILFIELD PRAYER BREAKFAST OKC
THURSDAY OCTOBER 13TH, 2022 
EMBASSY SUITES HOTEL NW 
5:45 AM DOORS OPEN – 6:15 AM BREAKFAST – 6:30 AM PROGRAM
SPEAKER:  DOUG LAWLER PRESIDENT AND CEO OF CONTINENTAL RESOURCE
Mr. Lawler joined Continental in February 2022 as Chief Operating Officer and Executive Vice President following three decades in the oil and gas industry. He began his career with Kerr-McGee in 1988 and joined Anadarko Petroleum following its acquisition of Kerr-McGee in 2006. He served in numerous senior operational leadership positions during his tenure at Anadarko, including: Senior Vice President, International and Deepwater Operations and member of Anadarko's Executive Committee from 2012 to 2013; Vice President, International Operations from 2011 to 2012; Vice President, Operations for the Southern and Appalachia Region from 2009 to 2012; and Vice President, Corporate Planning from 2008 to 2009. Most recently, Mr. Lawler was President & Chief Executive Officer and served on the board of directors of Chesapeake Energy Corporation from 2013 to 2021. He has served as a director of Pilot Travel Centers LLC (dba Pilot/Flying J) since 2016. Mr. Lawler earned his bachelor's degree in petroleum engineering from the Colorado School of Mines in 1988 and his MBA from Rice University in 2002.
If you would like to mail a check, make it out to OKC Oilfield Christian Fellowship and mail to:
Basin Engineering attn: Jeff Hubbard 1117 NW 24th Street OKC OK 73106
QUESTIONS PLEASE FEEL FREE TO ASK JEFF HUBBARD 405-550-4888 OR MATT HILL 405-568-2742
USE EVENTBRITE RECEIPT FOR YOUR TAX PURPOSES