"Our fellowship is with our Father and His Son Jesus Christ" 1 John 1:3
The Oilfield Christian Fellowship Bible Ministry is a multi-faceted outreach ministry dedicated to get the Word of God to men and women of the Oil Patch.
"For God so loved the world, that He gave His only begotten Son, that whoever believes in Him shall not perish, but have eternal life." John 3:16
In the beginning God created the heavens and the earth. The earth was formless and empty, and darkness covered the deep waters.
We have partnered with Faith by Hearing, an organization committed to reaching the nations with the Word of God in audio.
BIBLE SUPPLY MINISTRY
DOWNLOAD THE OCF APP
The OCF App is your go to app for Bible reading and listening.  With an audio Bible in over 1300 languages it is one of the most versatile Bible app available.  Also, included are audio testimonies and video talks.  And the best thing is it is a FREE APP! 
Go to your APP store and search Oilfield Bible or Oilfield Christian. 
HELPFUL INFORMATION FOR CHRISTIAN SENIORS
As of 2019, the United States was home to approximately 167 million Christian adults. This includes members of Catholic, Methodist, Baptist, Presbyterian and Lutheran churches. No matter which form of Christianity you practice, the concept of community is one of the religion's most important principles. Church members are supposed to care for one another and work together to help those in need, creating powerful bonds that can have positive effects on your mental health.  
To find more resources and information about the availability of Christian Senior Living and Care in your area, CLICK THIS LINK.
More information for senior living can be found HERE and  if you want to know about EMERGENCY HOUSING CLICK HERE
The next Woodlands OCF luncheon September 21, 2023.
To register to attend CLICK HERE
For more information on the chapter CLICK HERE
The next Houston OCF luncheon is October 4, 2023.

To register for to attend.  CLICK HERE
For information about The Houston Chapter CLICK HERE
A new Devotional Series debut's this first week of January.  Check back each Wednesday for the newest installment to the TOP 52.  This study uses the most searched for verses in the Bible as compiled by a study a website called TopVerses conducted .   This week read THE 15TH MOST POPULAR VERSE ON THE INTERNET devotional.

To read the entire TOP 52 Series CLICK HERE.  (Note a new entry will be added each week in 2023)
To read the entire posted LAST WORD SERIES articles click HERE.  There are 66 devotionals in this series and would make a great daily devotional reading for your spiritual growth.
Got a question about Christianity or the Bible?  Send your question in and we will respond.  Use the Contact Us link to send your question.   A question we answer here is WHAT IS CONVERSION
For more information see the Announcement or the Events calendar.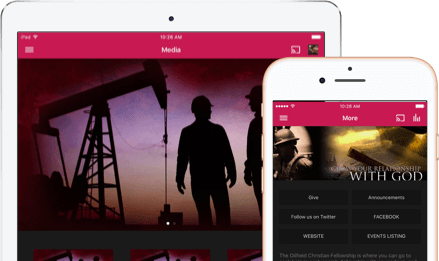 The OCF Bible App contains testimonies in English, Spanish, Portuguese and Mandarin Chinese in audio and print that are part of the Oil Patch Bible. The App also contains links to OCF social media and website. The App also houses an audio Bible that has over 1200 languages available to read or listen.
Sample the testimonies in the Oil Patch Bible at the link below.  If you have a testimony you would like considered to be added to the Oil Patch Bible or published here please send it us via the contact us button, or CLICK HERE.
We are honored and blessed to be able to pray with you over any concern you have. Click the link below to send you prayer request to us. God bless.
Therefore confess your sins to each other and pray for each other so that you may be healed. The prayer of a righteous person is powerful and effective. James 5:16
The Oilfeld Christian Fellowship is a 501c3 charitable organization.  As such your donations are tax deductible for any amount above the value of the goods or services received.  This ministry is dedicated to serving God who supplies all our needs.  Thank you for heeding God's call and making a donation by clicking the link below.  God bless you.