"Our fellowship is with our Father and His Son Jesus Christ" 1 John 1:3
The Oilfield Christian Fellowship Bible Ministry is a multi-faceted outreach ministry dedicated to get the Word of God to men and women of the Oil Patch.
"For God so loved the world, that He gave His only begotten Son, that whoever believes in Him shall not perish, but have eternal life." John 3:16
In the beginning God created the heavens and the earth. The earth was formless and empty, and darkness covered the deep waters.
We have partnered with Faith by Hearing, an organization committed to reaching the nations with the Word of God in audio.
BIBLE SUPPLY MINISTRY
WHY ATTEND NAPE
This event offers international and domestic purchasers a unique chance to connect, reconnect, and make deals on domestic and international levels. You can meet an ambassador from Australia, a lease negotiator from Canada and a geologist from Louisiana all in one place. Our growing attendee base also includes the renewable energy sector, service and capital providers as well as legal counsel. With that much decision-making power accessible at NAPE, deals happen.
The OCF will have a booth at the Summit Floor.  Please come by and see us. 
The next Woodlands OCF luncheon January 19th.
To register to attend CLICK HERE
For more information on the chapter CLICK HERE
The next Houston OCF luncheon is January 4th, 2022.

To register for to attend.  CLICK HERE
For information about The Houston Chapter CLICK HERE
It will held live and in person. 
Looking for a great way to understand what God is saying throughout the Bible?  We have started a weekly posting of the LAST WORD Series.  This week REVELATION is posted HERE
To read the entire posted Last Word Series articles click HERE
Got a question about Christianity or the Bible?  Send your question in and we will respond.  Use the Contact Us link to send your question.   A question we answer here is WHAT IS CONVERSION
For more information see the Announcement or the Events calendar.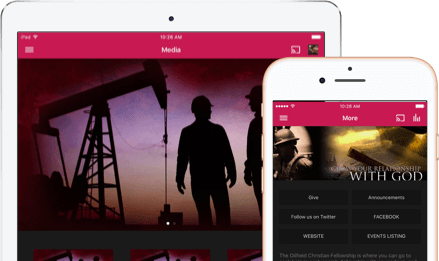 The OCF Bible App contains testimonies in English, Spanish, Portuguese and Mandarin Chinese in audio and print that are part of the Oil Patch Bible. The App also contains links to OCF social media and website. The App also houses an audio Bible that has over 1200 languages available to read or listen.
Sample the testimonies in the Oil Patch Bible at the link below.  If you have a testimony you would like considered to be added to the Oil Patch Bible or published here please send it us via the contact us button, or CLICK HERE.
We are honored and blessed to be able to pray with you over any concern you have. Click the link below to send you prayer request to us. God bless.
Therefore confess your sins to each other and pray for each other so that you may be healed. The prayer of a righteous person is powerful and effective. James 5:16
The Oilfeld Christian Fellowship is a 501c3 charitable organization.  As such your donations are tax deductible for any amount above the value of the goods or services received.  This ministry is dedicated to serving God who supplies all our needs.  Thank you for heeding God's call and making a donation by clicking the link below.  God bless you.